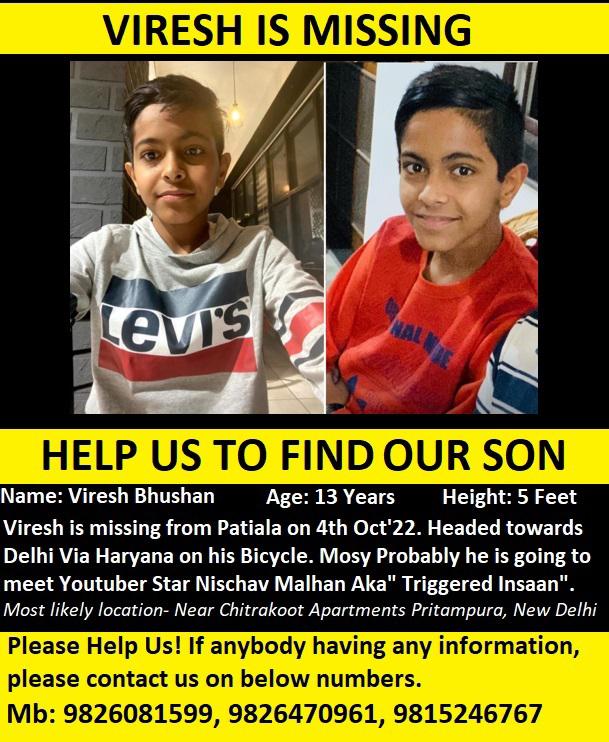 Thirteen-year-old Viresh Bhushan left for his home in Patiala, Punjab, on his bicycle with high hopes of meeting his online idol, Nischay Malhan, better known as "Triggered Insaan" of YouTube to Pritam Pur, New Delhi. The youngster had been a fan of Malhan for some time and was excited to meet him in person finally. According to Bhushan's family, the 13-year-old never arrived at Nischay's destination and has since gone missing. It's been three days since Viresh Bhushan, went missing. The CCTV footage of the boy has surfaced on the internet, and the police are still in search of him. Nischay has urged his fans to help find Viresh and has even offered a reward for any information leading to his whereabouts. The police are doing their best to find him and are asking anyone with information to come forward.
Nischay in a video said that he is in Dubai since October 4 with the family. Nischay's father received multiple calls from the Crime Branch in which they were seeking information about Viresh.
https://www.youtube.com/watch?v=W_3ZGkihQo8
Nischay has tagged the Delhi Police in a tweet, seeking their help to investigate a "serious" case.
This is serious, if anybody has any information, please contact the police or the undersigned. I'm not in Delhi and travelling in Dubai, without network, will keep posted about this however much I can. https://t.co/BllLoZEubM

— Nischay Malhan (@TriggeredInsaan) October 7, 2022
The Patiala Police, on their part, have taken the case under their scanner and have appealed to the public for information.13 years old Viresh, a resident of Patiala, Punjab, left for school at 07:30 a.m. on Tuesday morning but never returned home. Bhushan's family alleges that the boy was a huge fan of the YouTuber and was looking forward to meeting him. However, the less-informed teen didn't know that Nischay isn't in the city. The incident was brought to the notice by an uncle of Viresh. Viresh's uncle named Manish Bhushan took to Twitter in search of the boy. He pointed out the concern in several tweets since the boy went missing on October 4, further requesting Delhi Police & Nischay to notify the people and urge the followers and authorities to find Viresh.
https://twitter.com/manishkb19/status/1577691743486902272?ref_src=twsrc%5Etfw%7Ctwcamp%5Etweetembed%7Ctwterm%5E1577784942167494656%7Ctwgr%5Ea13ece257a0e9ab54a1e771d5a7caf5694c2982e%7Ctwcon%5Es2_&ref_url=https%3A%2F%2Fwww.freepressjournal.in%2Findia%2Fyoutuber-nischay-malhan-aka-triggered-insaan-requests-delhi-police-to-find-his-missing-fan
Update: Viresh has been found and he is safe, confirmed by his uncle, police, and Nischay.
(1) manish bhushan on Twitter: "Hi All. Thanks for your prayers and help. We just found Viresh. Thank you @DelhiPolice @PatialaPolice @rpfnr_ @RailMinIndia @invincibleidea @TriggeredAadya and all the nears & dears for your efforts and help! 🙏" / Twitter
(1) Nischay Malhan on Twitter: "Good news people. The Boy has been found. Thank God." / Twitter