Pakistan
Huge Crowd in PTI Peshawar Jalsa is a Revolution: Imran Khan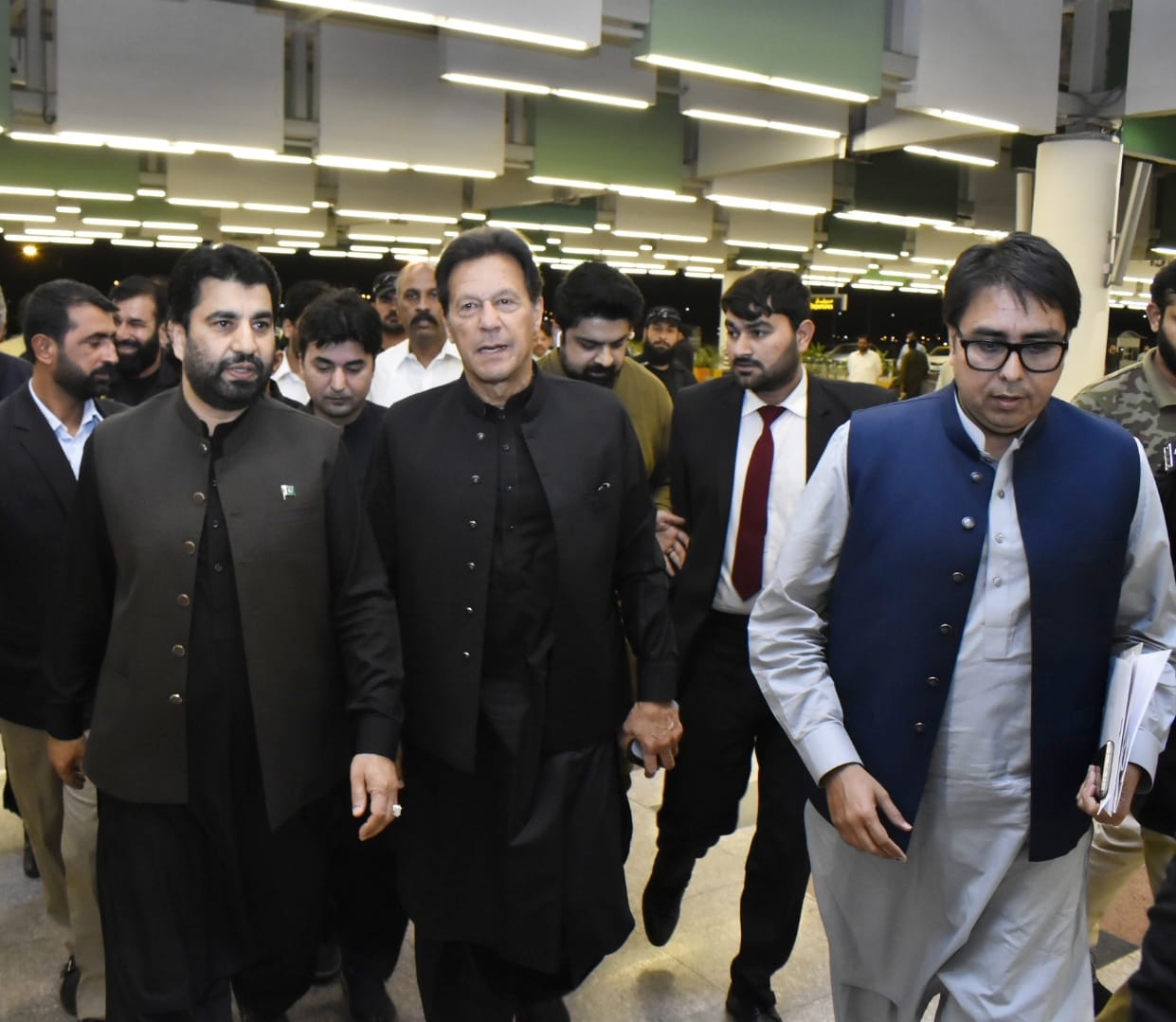 Pakistan: PTI Peshawar Jalsa has faced a media blackout but thanks to powerful social media, the voice can not be silenced there. You can watch live streaming of Peshawar Jalsa on PTI's official Facebook. It's not a Jalsa but a revolution, Imran Khan is reached and is welcomed by thousands of people. EMEA TRIBUNE wants to remind the readers that only ARY News is covering the event after all the pressure done by the imported government. No one's father can remove Imran Khan from the post of Prime Minister. Former Chief Minister KP Mahmood Khan said in a Jalsa. Faisal Javed said in Jalsa that Shahbaz Sharif is not a Prime Minister but a crime minister and we all reject #امپورٹڈ_حکومت_نامنظور
Shukriya Peshawar!! The love you've given today is incredible! #امپورٹڈ_حکومت_نامنظور pic.twitter.com/XPjHkXXcde

— PTI (@PTIofficial) April 13, 2022
https://twitter.com/QasimKhanSuri/status/1514308444311855104
PTI Jalsa in Peshawar
Not only Pakistan but all the Arab countries including Europe, and America are witnessing the protest in favor of Imran. Those who abused the army returned to power Sheikh Rashid said. The demands of the public in Jalsa and all in Pakistan are for early elections. We will not accept the slavery of anyone except Allah, Qasim Suri. I have many secrets in my heart, Pervez Khattak. When Imran Khan refused to give a base to the United States against Afghanistan, the United States started this game but Allah is the superpower, Khattak said.
Today Peshawar has succeeded against the imported government, I ask who is the first to congratulate Shahbaz Sharif? Modi, the killer of Kashmiris, to whom these Sharifs give sarees, feeds the thefts, says SM Qureshi.
Imran Khan speaking to the public
My dear judges, my dear judiciary, I also went to jail for an independent judiciary I ask the judiciary today, what crime did I commit that you set up the courts at 12 o'clock at night? " Imran Khan's powerful question from the judiciary. Well done, my people. The way you came out for the independence of Pakistan I will reach every city insha'Allah and I will stand my proud nation against these shameless people. Now the country is aware. This is the Pakistan of social media. My proud Pakistanis, we have to decide now whether Pakistan will be free or will remain a slave. My proud nation does not believe in any shameless government "- Imran Khan's smoky speech in Peshawar.
In Pakistan, whenever a Prime Minister was removed, people would distribute sweets. But this time my nation came out on the streets of the whole country and said that Say No to Imported Government, and for that, I sincerely thank my people, Imran said. I ask all the institutions don't you have no fear of God that you are handing over your nuclear program to these robbers? Shahbaz Sharif, you who are harassing the social media workers, let me tell you, if I call you, you will not find a place to hide your face. America, open your ears and listen. We don't need your forgiveness. Who are you to forgive us or not? I ask our institutions why we are afraid of America. Do they have our nuclear weapons that we don't respond to? La ilaha illa Allah gives us pride. This is our promise to Allah that we will never bow down to anyone except Allah Shahbaz Sharif calls the nation Beggar Shahbaz Sharif, you are a slave. Be ashamed Today that you went to Mazar-e-Quaid. Where is Quaid-e-Azam, where are the corrupt people like you that devoured the country? On Saturday I will go out to Karachi and I tell my nation you have to go out to every city this week for your freedom.
د پېښور با احساسه اوسېدونکو ثابته کړې چې د دې هېواد په ضد د هر ډول بهرنۍ سازش په وړاندې به ودرېږي.
ستاسو جذبې ته سلام
ستاسو لپاره د پنجاب څخه ډیری دعاګانې
او په ځانګړې توګه د خپلو خویندو او میندو څخه مننه کوم چې په اوریدو کې دي.
#امپورٹڈ_حکومت_نامنظور pic.twitter.com/2Cu1yNe37N

— Teeba Syed🇵🇰 (@TeebaSyedPK) April 13, 2022
آج پشاور کے عظیم الشان جلسے میں بھی عوام کا سونامی تاریخ رقم کر رہا ہے کہ کیسے اس امپورٹد حکومت کیخلاف پرامن احتجاج کے لیے لاکھوں کی تعداد میں عوام سڑکوں پر نکل آئی ہے اور ان شاء اللہ یہ جدوجہد اس کرائم منسٹر کو گھربھیجنے تک جاری رہے گی۔ #امپورٹڈ_حکومت_نامنظور pic.twitter.com/tzLc8EcKPc

— Senator Dr. Shahzad Waseem (@dswpti) April 13, 2022
پاکستان کی عوام ہر گزرتے دن کے ساتھ شدت کے ساتھ الیکشن کا مطالبہ دہرا رہی ہے. عمران خان کی عوامی رابطہ مہم رمضان میں جاری ہے اور اس گرمی میں ایسی بھرپور عوامی شرکت کی مثال نہیں ملتی.#امپورٹڈ_حکومت_نامنظور pic.twitter.com/1JCGMi7iyG

— Humayun Akhtar Khan (@HumayunAkhtarK) April 13, 2022
چیئرمین تحریک انصاف عمران خان پشاور جلسہ گاہ پہنچ گئے۔

#امپورٹڈ_حکومت_نامنظور pic.twitter.com/PQaI18lFmV

— PTI (@PTIofficial) April 13, 2022
A huge crowd in Peshawar, waiting for Imran Khan's speech !

#امپورٹڈ_حکومت_نامنظور pic.twitter.com/33zAWc54hg

— Farwa Munir (@Fatii_PTI) April 13, 2022
Qasim Khan Suri (@QasimKhanSuri ) speaking at the Peshawar Jalsa! #امپورٹڈ_حکومت_نامنظور pic.twitter.com/65Xr3LO2OT

— PTI (@PTIofficial) April 13, 2022
زه په دې شانداره غونډه کې د خېبر پښتونخوا خلکو ته د زړه له کومې مننه کوم!#امپورٹڈ_حکومت_نامنظور pic.twitter.com/xUw7UriNr8

— Zartaj Gul Wazir (@zartajgulwazir) April 13, 2022
HISTORICAL Jalsa at #Peshawar

میڈیا یہ تاریخی مناظر کیوں نہیں دکھا رہا؟

حق کی آواز کو جتنا دبایا جاۓ، اللّه کی مدد سے حق اتنی ہی قوت سے پھیلتا ہے۔
💪💪💪#امپورٹڈ_حکومت_نامنظور pic.twitter.com/butWNUmF0S

— Maleeha Hashmey (@MaleehaHashmey) April 13, 2022
Peshawar Jalsa is huge, accept that!!

— Saadia Afzaal (@SaadiaAfzaal) April 13, 2022
Read this Powerful trending Imported Hukumat na Manzoor امپورٹڈ_حکومت_نامنظور# since 2 weeks