BLM
Black Lives Matter Rally & Protest Update Justice for George Floyd
Black Lives Matter Rally planned on Saturday afternoon in downtown Appleton to protest the death of George Floyd Justice for George Floyd.
Read about George Floyd https://emeatribune.com/george-floyd-death-violence-and-riots-in-minneapolis/
Protestors will gather on Saturday, May 30, 2020, in downtown Appleton for a Black Lives Matter march, it will begin at 2 PM he Dollar General on West College Avenue and North Badger Avenue. Cassandra Ross is an organizer of this march. Ross said "we want justice, we want freedom, we are tired." the rally and protest will be held worldwide.
Another Rally will be held on Saturday at 2 PM in Marion Square in downtown Charleston.
Black Lives Matter Rally & Protest Update:
Update June 08, 2020
The family of George Floyd has appealed to the United Nation to intervene in Floyd's murder case
Warning issued to the demonstrators in Seattle by police
Manchester City's Raheem Sterling backs anti-racism protests
From Paris to Barcelona protests erupted in European cities
Joe Biden to meet George Floyd Family
https://twitter.com/BriansNewHeart/status/1269961255889981441
Bristol police say there will be no further action after protesters explain they were unsure whether they were strong enough to pull down statues and were simply testing whether they were fit to do so… #BlackLivesMatter

— The SKWAWKBOX (@skwawkbox) June 8, 2020
https://twitter.com/Sista_Sheri/status/1269928601090228225
I am so proud of @BTS_twt and #BTSARMY for collectively donating over $2 million to #BlackLivesMatter. We are using our privilege and resources to make a difference.

— Luke Waltham (@lukewaltham) June 8, 2020
Just another day as a Parliamentarian ??‍♀️
Where do I even start with this one- replied asking Bernie if he fancied a cup of #YorkshireTea and a history and geography chat
?….aaaaannnddd breeeatheeee #BlackLivesMatter pic.twitter.com/WTKD2eWCGO

— Sayeeda Warsi (@SayeedaWarsi) June 8, 2020
Update June 04, 2020
An arrest warrant has been issued for the three other officers

Thomas Lane, Tou Thao, and J. Alexander Kueng have been charged with aiding and abetting second-degree murder and second-degree manslaughter.

Derek Chauvin had initially faced charges of third-degree murder and second-degree manslaughter

Floyd tested positive for COVID-19 Autopsy report says

Black BMW attempted to drive through protesters blocking an intersection in Cincinnati

Curfew Imposed in New York City

Protestors arrested in NY
The protestors who were detained are now being loaded up onto a prisoner bus by the NYPD on E 50th and 3rd Ave. pic.twitter.com/PBwtK9ztIx

— Kevin Rincon (@KevRincon) June 4, 2020
May 30, 2020 Update
Protests erupt in cities across the United States over the killing of George Floyd an African American unarmed black man.

The Minnesota National Guard has arrived in Minneapolis and surrounding areas.

Curfew imposed in Minneapolis.

One dead after shots were fired at protestors in Detroit, a 19 years old man has died after shots were fired from a crowd.

Army on alert US Secret Service ordered the White House to be locked down for about an hour.

Protestors gather at the Oak Park Market

Protesters block the intersection of 12th Avenue and 33rd Street

70 protestors arrested in Chicago, New York, Los Angeles.
Angry protestors set fire to several buildings including a police station, Police fired shells to disperse the protesters. CNN team were arrested by the Police but after the pressure from the journalists, the police later released them (CNN was showing live protestors rally). American journalist Christine Amanpour said that journalists are arrested in a dictatorship, we live in a democratic country.
Black Lives Matter Rally & Protest Coverage on Justice for George Floyd: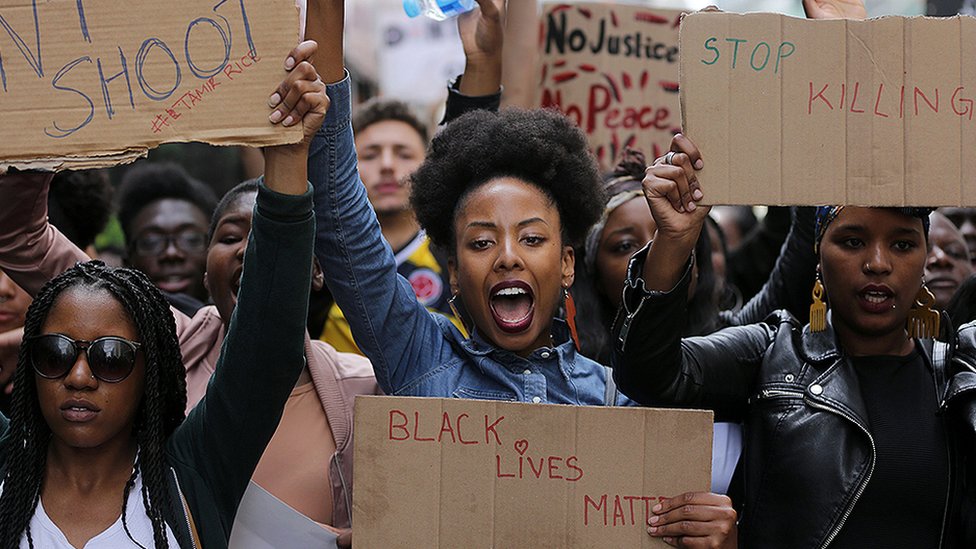 Reaction from Twitteraties:
i'm not black, but i see you.
i'm not black, but i hear you.
i'm not black, but i mourn with you.
i'm not black, but i will fight for you. #BlackLivesMatter#RAISETHEDEGREE pic.twitter.com/8AfoYeMHds

— kim (@soonkimyu) May 30, 2020
https://twitter.com/jasminekong23/status/1266591281876099072
canton, ohio. small town. we protested very peacefully for 3 hours. until the police threw tear gas at us. until they started arresting us. they used mace. man, we are tired of being treated like this. we need freedom. #BlackLivesMatter #JusticeForGeorgeFloyd pic.twitter.com/nf2Fm4s09L

— tae ? (@trixontaee) May 30, 2020
you need to be vehemently anti-systematic racism always, not just when it's trending. tonight, Richmond took a stand for something we believe in #BlackLivesMatter pic.twitter.com/ofKr6Z2vJy

— local themptress (@riprania) May 30, 2020
#BlackLivesMatter protest today on Las Vegas strip pic.twitter.com/U7uyAhot6z

— Liliana ? (@liliana_1599) May 30, 2020
downtown houston spoke up. we are with you. #BlackLivesMatter pic.twitter.com/mLI9B4QaQS

— andreana na na (@andyydeguzman) May 30, 2020
Protested in Canton, Ohio tonight. We were 100% peaceful – marching, chanting, kneeling. SWAT showed up & sprayed tear gas & shot people with rubber bullets. We ran down alleyways & they followed us. This is insanity, this is wrong, things need to CHANGE!#BlackLivesMatter pic.twitter.com/4mpuXInvyb

— rinnbow ? (@rinnalaiss) May 30, 2020
Tweets on Black Lives Matter
United States of America 2020. ?? #BlackLivesMatter pic.twitter.com/fPCkdencpq

— Abrantie (@mikeabrantie) May 30, 2020
"our lives begin to end the day we become silent about things that matter." to my fellow white people, SILENCE IS VIOLENCE. use your privelage to fight back. #BlackLivesMatter pic.twitter.com/lOo83ZYd0p

— marya (@marya_yochum) May 30, 2020
"I knew then and I know now, when it comes to justice, there is no easy way to get it."#Houstonprotest #BigFloyd#BlackLivesMATTER pic.twitter.com/RW6jzdqGqD

— Hanzo (@foundintellect) May 30, 2020
https://twitter.com/W0NC0RE/status/1266617893678198790
We will update you on the Black Lives Matter protest and Rally as soon as we have more details, if you have something to say or wants to share photos/videos then write me on Press@emeatribune.com