Pakistan
PTI Chairman Imran Khan podcast with Junaid Akram
Pakistan: This is the first-ever podcast of Imran Khan with any YouTuber. Imran Khan's podcast with Junaid Akram is now being aired on social media & digital media. The podcast can be watched live on the official Facebook Page of Imran Khan and Junaid Akram's YouTube channel. This is the first-ever podcast of politicians in Pakistan. Imran Ghazali tweeted that the audio podcast is now uploaded he has shared the podcast link. The video one is now available on YouTube.
#PodcastWithIK video is being uploaded, audio version below: https://t.co/EQtqWgoy31

— Imran Ghazali | #DigitalStrategy (@ImranGhazaliPK) May 5, 2022
Behind the Scenes:
Chairman PTI @ImranKhanPTI podcast will be aired at 11pm today. catch the podcast at following channels: #PodcastWithIK
> On our Twitter account
> FB: https://t.co/ecuX874fGM
> YT: https://t.co/w4Z35r6TZKhttps://t.co/5Hp3VBKsOFhttps://t.co/ZniDIDfCGJ pic.twitter.com/82p1wDj5tz

— PTI (@PTIofficial) May 5, 2022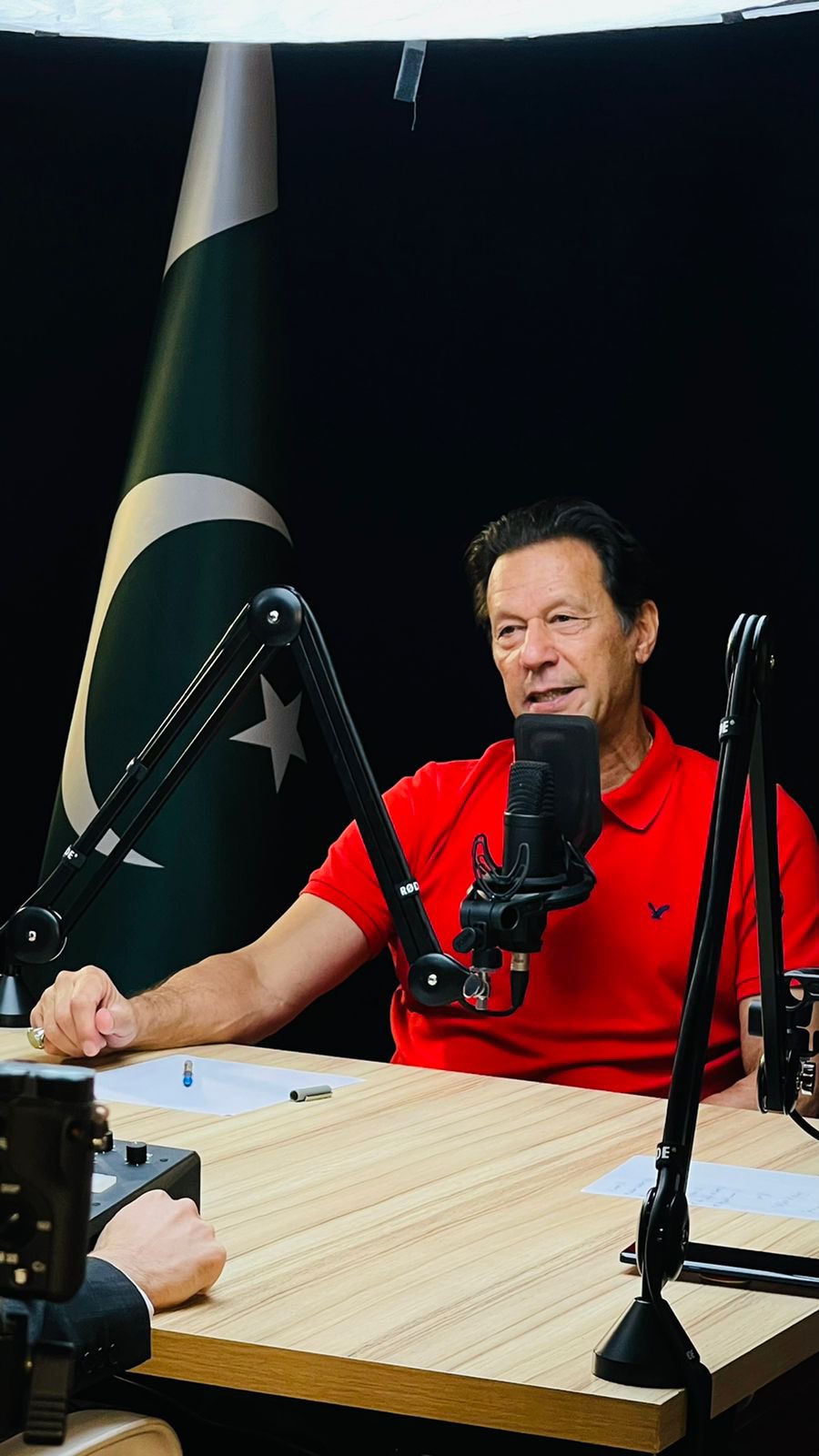 Behind the Scenes of #PodcastWithIK

It will air around 10 pm tonight
on @hoflolz, @thecentrummedia and @junaidakram83's YouTube, Facebook & Instagram channels simultaneously. It's going to be yet another historic Social Media event with Imran Khan! pic.twitter.com/MHqfvVIVoZ

— PTI (@PTIofficial) May 5, 2022
#PodcastwithIK
Highs and lows are part of life and sports prepare you for both defeat and victory. Apart from Quaid-e-Azam, no other politician has spent 22 years of his life in opposition, Chairman Imran Khan said.
اونچ نیچ زندگی کا حصہ ہے اور اسپورٹس آپکو ہار اور جیت دونوں کے لیے تیار کرتی ہے۔ قائد اعظم کے علاوہ کسی اور سیاست دان نے زندگی کے بائیس سال اپوزیشن میں نہیں گزارے۔ چیئرمین عمران خان #PodcastWithIK#امپورٹڈ__حکومت__نامنظور pic.twitter.com/eZs6uxn7zF

— PTI (@PTIofficial) May 5, 2022