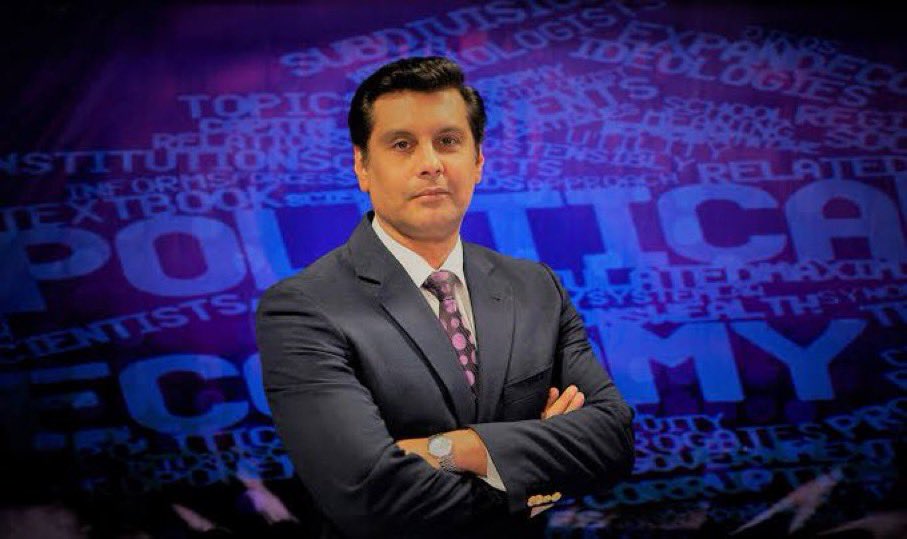 Pakistan's senior journalist & anchor Arshad Sharif was martyred in Kenya on Sunday, confirmed by his wife Javeria Siddique. According to the details, the news of the death of Arshad Sharif has been confirmed by the Kenya police.
I lost friend, husband and my favourite journalist @arsched today, as per police he was shot in Kenya.
Respect our privacy and in the name of breaking pls don't share our family pics, personal details and his last pictures from hospital.
Remember us in ur prayers. pic.twitter.com/wP1BJxqP5e

— Javeria Siddique (@javerias) October 24, 2022
Let there be no confusion, Arshad Sharif was murdered by a sniper bullet to his head. It was not an accident as is now being floated. He had told me head money had been put on his life so he had to leave Pak. Later he said he had to leave Dubai bec they had traced him there too.

— Shireen Mazari (@ShireenMazari1) October 24, 2022
Kenyan police say that armed men shot Arshad Sharif in the head in Nairobi but the very next hour they said it was a case of "mistaken identity". A journalist Eliud Kibii from Kenya revealed this in a tweet.
The police statement on the #ArshadShariff killing has too many gaps. First, if it was a case of a stolen vehicle, the number plates of the stolen car and the one Arshad was are different. They don't say the make. By the time of the incident, the "abducted" son had been found. 1/

— Eliud Kibii (@eliudkibii) October 24, 2022
Chairman Tehreek-e-Insaf Imran Khan reached the house of Shaheed Arshad Sharif to express his condolences.
(1) PTI on Twitter: "چئیرمین تحریک انصاف عمران خان اظہار تعزیت کے لئے شہید ارشد شریف کے گھر پہنچ گئے۔ https://t.co/BhyRIBGDM2" / Twitter
Condolences Tweets for Arshad Sharif:
ارشد شریف کے قتل کی خبر پر دل خون لہو لہو ہے، ظلم حد پار کر گیا ہے !

— Ch Fawad Hussain (@fawadchaudhry) October 24, 2022
Have no doubt that Arshad Sharif was murdered on the orders of the khaki thugs. Not the first journalist murdered abroad. No condemnation is enough. Murderers masquerading as "protectors" must be held accountable.

— Imaan Zainab Mazari-Hazir (@ImaanZHazir) October 24, 2022
وہ صحافی جسے خریدنے کیلئے پاکستان کی دولت کم پڑ گئی تھی 😭😭 pic.twitter.com/Uo2L2HVM4O

— Naya Pakistan (@Naya__Pakistan_) October 24, 2022
Chairman PTI @ImranKhanPTI talks about the brutal murder of Shaheed Arshad Sharif. pic.twitter.com/ut9ReTjzy2

— PTI (@PTIofficial) October 24, 2022
He was pursued by our State & driven out of Pak till his targeted murder in Kenya. This is Barrister Shoaib one of his closest friends confirming what many of us knew. At the very least decency should be shown by those who drove him out of Pak to remain silent. Hypocrisy hurts. pic.twitter.com/CtfCrC9hgx

— Shireen Mazari (@ShireenMazari1) October 24, 2022
"This is what we can do, so keep your mouth shut." is the message.

Well F You.. We will have our Azaadi.

— Mariam's Madness (@MaddyWithKhan) October 24, 2022
Official police report now says; #ArshadSharif and his brother Khuram found the road blocked 'with small stones and they decided to pass it, it was then that they heard several gunshots." The report does not say WHO was fring the shots. pic.twitter.com/wIJmVj8QMu

— Brian Obuya (@ItsBrianObuya) October 24, 2022
#Pakistan🇵🇰 We don't care what you pretend, if you post graphic images of the murder of Mr. #ArshadSharif, we will block, report and suspend your account. Respect the family and loved ones of this honourable journalist killed for defending his country. RESPECT! pic.twitter.com/JEAXCychng

— International Human Rights Foundation (@Declaracion) October 24, 2022
قوم کابیٹااورسچ کاسپاہی ارشدشریف آج شہیدہوگیاہے۔بلاول کانانابھی گیٹ نمبر4کی پیداوارتھابلاول وضو کرکےگیٹ نمبر4کانام لیاکرےگرہن سورج کو نہیں کل سےحکومت کولگےگااور30نومبرتک آرپارہوجائےگا۔سامراجی ایجنٹوں کوکہیں سےمددنہیں ملےگی۔میں آج کاٹویٹ ارشدشریف کےنام کررہا ہوں اوراسکےگھرجارہاہوں

— Sheikh Rashid Ahmed (@ShkhRasheed) October 24, 2022
3) Why was Arshad Sharif's body recovered about 78 miles away from the point of shooting?

4) As being reported, it was a busy road in capital Nairobi. Why hasn't the Kenya Police produced any CCTV footage so far?

— OSINT Insider (@OSINT_Insider) October 24, 2022
My prayers and condolences go to his grief stricken family.

— Imran Khan (@ImranKhanPTI) October 24, 2022
" آج ارشد شریف کی موت کے بعد سب یاد آرہا ہے " اوریا مقبول جان @OryaMaqboolJan #ArshadSharif

Link : https://t.co/nCoXuAIlZy pic.twitter.com/iD6qM7840A

— Siasat.pk (@siasatpk) October 24, 2022